What you are getting yourself into: our Rental Agreement
NOTE: Maine's coastal waters are littered with hazards to navigation, and prone to fog, shifting winds, changing tides and currents, all of which can be challenging to even experienced boaters. Operating a boat in these waters is not a care-free joy-ride, it requires constant vigilance.
Right of Refusal: The renter must provide evidence satisfactory to West Harbor Recreation, Inc. (WHR) of their knowledge and ability to operate and navigate the selected boat properly, safely, and in accordance with all applicable laws and regulations, including the "rules of the road." WHR reserves the right to refuse rental in the event of prevailing or anticipated bad weather or reduced visibility, if the renter is deemed insufficiently knowledgeable or experienced, or if the renter or any member of their party appears intoxicated or otherwise in-capable of, ill-equipped, or ill-prepared for boating. Should we choose not to continue the rental, a full refund will be issued immediately. WHR's acceptance of the renter does not absolve the renter of their full responsibilities as master of the vessel.
Financial Responsibility: Our insurance policy does not extend to you! In renting this boat, you accept full financial responsibility for any and all costs arising from your use of the boat, including our lost revenue should the boat need to be taken out of service for repairs. But your liability extends well beyond damages to the boat, to include damages to the property of third parties, as well as medical costs due to injuries or loss of life. If you run the prop onto a rock, you could be facing several thousand dollars in bills; if you are involved in a serious accident, you could be looking at millions of dollars in bills…. Does that scare you? It should!
Acknowledgement of Risk: The renter acknowledges that boating and other waterfront activities have an inherent risk of damage and injury, including the possibility of permanent disability, paralysis, or death. Renters and visitors using the dock, boats, swimming, or exploring the shore do so entirely at their own risk. West Harbor Recreation, Inc., and their lessors, contractors, employees, and officers, will not be responsible for injury, including death, to any person, nor for damages to any person's property, sustained as a result of use of these boats or waterfront facilities.
Release, Hold Harmless, and Indemnification: The renter agrees on behalf of all members of the renter's party and any visitors or guests of the renter's party, to release, hold harmless, and indemnify West Harbor Recreation, Inc., its lessors, contractors, employees, and officers from any and all liability or claims, including those of third parties, arising out of or in any way a result of renter's or any guest's use of our boats, waterfront facilities, equipment, or grounds to the fullest extent allowable by law.
---
Other Policies
---
Required Qualifications
Maine does not yet require a boating license or certification. That said, if you have a "Safe Boating Certificate" or similar credential from another state, or a license from the US Coast Guard, we would love to see it. In any case, you still need to satisfy us of your competence to take the boat out. We don't have any specific test for you, but we want to know about your boating experience, your understanding of the "rules of the road," and your abilities to navigate and to handle the boat. If you're taking the boat for more than a day, we'll also want to know about where you plan to moor or dock the boat.
If you are interested in obtaining certification, we recommend looking for a course/test that meets the standards of the NASBLA (National Association of State Boating Law Administrators), as that might be portable to the most jurisdictions. Some online resources:
For reference: the official "Boater's Guide to Maine Boating Laws and Responsibilities" (online web version, also available as a downloadable PDF)
Cancellation
Payment for the first day of the rental is required to confirm the reservation. The balance of your reservation, plus a security deposit, will be collected when you come to pick up the boat.
Should you need to cancel: If more than 10 days prior to your reservation, you would be refunded in full less any transaction processing charges that might have accrued (typically around 3%); Within 10 days of your reservation, you would be refunded only if we succeed in renting the boat to someone else, or if the weather or other conditions are such that we would not let you take the boat out anyway.
Navigation Area
Our navigation area covers the coastal waters from the Sheepscott River (Southport Island, Barters Island, etc…) to the Damariscotta River (East Boothbay, Back Narrows, etc…), out to Damariscove Island, including Boothbay Harbor, Booth Bay, Linekin Bay, Townsend Gut and Ebenecook Harbor.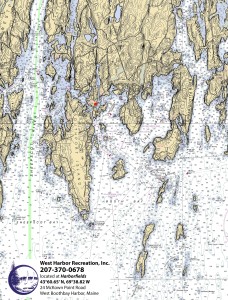 click on chart for full-scale version
Below is a detailed chart of Boothbay Harbor's inner (inside Tumbler Island) and outer (between Tumbler and Squirrel Islands) harbors. Sailboats are restricted from sailing in the yacht club mooring field and the main harbor mooring field. Sailboats are also restricted from passing through Townsend Gut. All boats are restricted from passing between Tumbler Island and Spruce Point.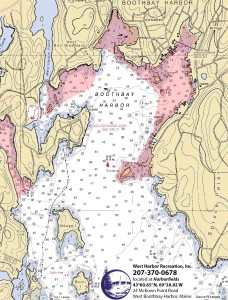 click on chart for full-scale version
Note that the entirety of Boothbay Harbor inner harbor inside Tumbler Island is "No Wake" zone.
Unfortunately, we do not have the resources to provide delivery and retrieval of the boats, nor are the boats trailerable (they are in the water, here at our dock in Boothbay Harbor, ready and waiting for you!). You should make arrangements to pick up and return your rental from our dock located at Harborfields Cottages on the shores of West Boothbay Harbor.
If you intend to take a boat for more than a day, please provide information (including the exact address) on where the boat will be docked or moored for the duration of your rental.
Fuel Charges
We send you out with a full tank of gas in all of our boats (at least those that have motors).
With the Skiff and the Sailboats, that first tank of fuel is on us.
With the Blue Fin, the Easterns, and the Handy Billy, you must return the boat also with a full tank of gas. We recommend stopping at the Carousel Marina fuel dock on the east side of the Harbor to top off before returning either of these boats. If the fuel gauge doesn't read "Full" when you bring the boat in, you will be charged $10 per gallon as estimated from the fuel gauge. The Handy Billy has a ~20 gallon fuel tank, the Blue Fin holds 16 gallons, and the Easterns have a 30+ gallon tank.
Security Deposit
Rather than charge your card for a security deposit, only to refund when you return the boat, we collect your credit card information and your signature authorizing us to charge any amount up to $1,000 on your card, up to 30 days following the date signed, for payment of any fuel charges, clean-up fees, late fees, repair charges, replacement of lost equipment, or settlement of claims by third parties resulting from your use of the rental boat. If you are not comfortable with this arrangement, please bring a security deposit of $1,000 in cash.
The security deposit will be refunded in full if the boat is returned on time and in the same condition as it was checked out (see note above about fuel charges). Return of the deposit may be pro-rated if the boat is not returned on time, if the boat or engine need repairs, if equipment is missing, or if fuel is needed. In case of a partial refund, amounts returned might be by check mailed to the supplied mailing address. In some circumstances, return of the deposit may take several days to process.
Other
Day time use only! You are not allowed to operate the boat after sunset or before sunrise, even if the boat is equipped with running lights.
Water skiing, wake-boarding, tubing, and other such activities are not allowed with any of our boats. Besides the wear and tear on the boats and the inherent dangers, it's just not something people generally do around here: the water is cold, there are too many lobster pots, the waves can be too big, and there is too much other boat traffic.
Maine State Law requires that children under the age of 12 must wear an appropriately fitted lifejacket at all times when boating; we strongly recommend all members of the renter's party to wear lifejackets.
Downloadable Documents
Available for your review:
For advance reservations please see our Reservations page