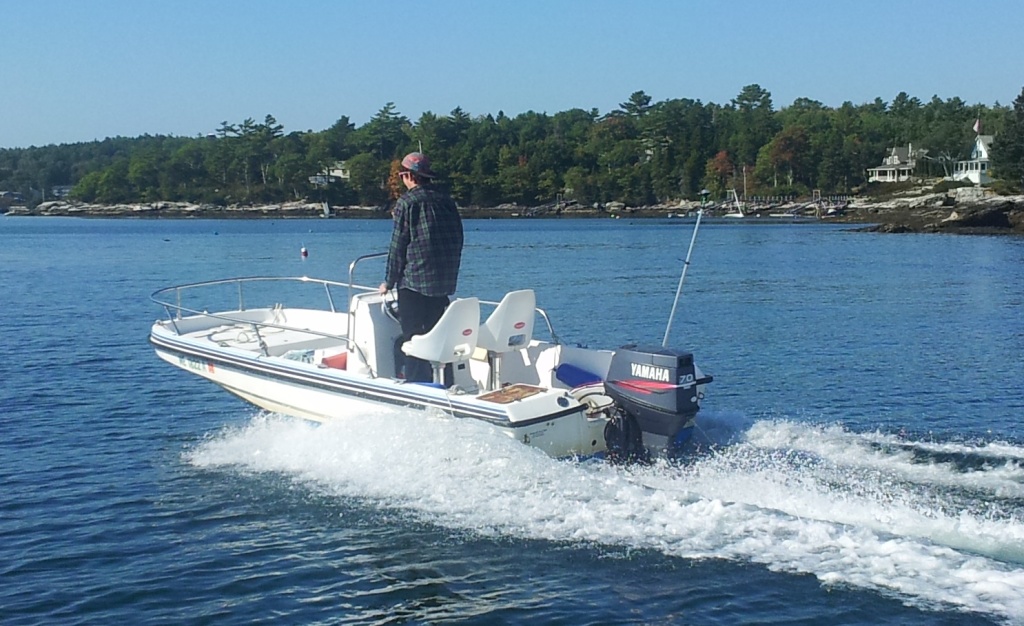 The Blue Fin is a 15-1/2 foot center-console with a brand-new 2017 model 4-stronke 70-hp Yamaha outboard, with a top speed of around 22 knots. She was built in fiberglass by Blue Fin Yachts, Ltd., Inc. Bristol, RI in 1997. She can accommodate 4 adults.
In addition to a Lowrance Elite-5 HDI GPS chartplotter/fishfinder and a VHF radio, she also has electric start, power trim/tilt, a ~16+ gallon inboard fuel tank, automatic oil injection (no need to mix oil and gas). Equipped with life jackets, flotation cushions, fenders, docklines, oars, bailer, navigational chart, compass, and all other USCG required safety equipment.
The Blue Fin is available to qualified boaters subject to our Rental Agreement and Boat Rental Check Out. The navigation area is limited to Boothbay Harbor, Linekin Bay, Booth Bay, Townsend Gut, Ebenecook Harbor, Sheepscot River (Southport Island), and Damariscotta River (East Boothbay). For more information, please see our Policies page.
Rates
Daily: $300
Half-Day (after 1:00 pm): $200
Weekly: $1400
In addition, a security deposit of $1,000 is required with all rentals. See our Policies Page for more information.
Availability
"Please Call" means that we not accepting online reservations for the period shown, but that you can contact us to inquire about the availability of the boat.
For other dates, you can make your reservations online or by contacting us. Please be sure to familiarize yourself with our Rental Policies.