Even though the calendar now says "Spring," there is still ice on West Boothbay Harbor, and still a lot of snow on the ground. But we know the snow will eventually melt, the ice will break up, and our dock and moorings will be set back out once again. So we write to thank you for your past patronage of our boat rental business, West Harbor Recreation, Inc., and to let you know what is new for the upcoming 2015 boating season here in Boothbay Harbor, Maine.
For 2015, we have acquired a "new" powerboat, a 2002 Eastern/Seaway 19-foot center console, powered by a four-stroke 90 hp Honda outboard. This boat is equipped with a Raymarine A50d chart-plotter and fish-finder (with Platinum series charts, including 3-D, etc…), as well as a VHF radio, compass, and all the other usual safety equipment. The Eastern can comfortably accommodate up to 7 passengers. In our sea trials, we easily achieved 26+ knots (30 mph), although she is much more comfortable (and drier!) cruising at a somewhat lower speed. This boat has already attracted several advance reservations for the summer, so we encourage you to get your request in soon!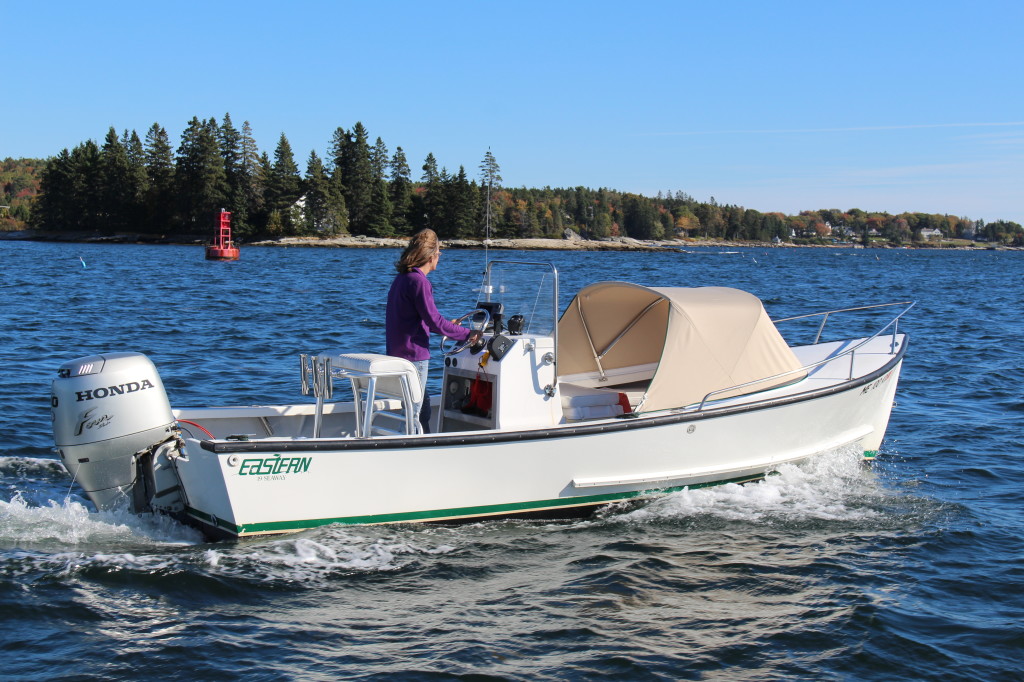 Southport Island Marine will once again be leasing us their Handy Billy 21 SEABREEZE. For those who haven't seen her, this is a beautiful classic "launch" capable of transporting up to 8 passengers in comfort and style. She is powered by a four-stroke 30 hp Tohatsu located in an enclosed well at the back of the boat, and is extremely quiet in operation. We are so pleased that her owner has decided to continue her in our rental program, as we know that this boat has some ardent fans among our customers!
Our Blue Fin 15.5 "whaler-type" center console runabout will be back, as well. But we will be sprucing her up and equipping her with a Lowrance Elite-5 HDI chartplotter/fishfinder instrument, and a VHF radio as well. She is still powered by her old reliable two-stroke 70-hp Yamaha outboard.
Unfortunately, the owner of the Sea Sprite 23 sailboat that we had in our rental program last year has sold the boat, but we do still have our two San Juan 21 sloops, QUASAR (the orange one) and GREYSAR (which, you guessed it, is grey). Relying on our extensive offshore sailing and racing experience, we continue to make small improvements to the rigging and equipment on these boats (not that they will ever be suitable for a trip to Bermuda!) At the end of last year, Wendy built some main-sail covers to help protect our relatively new sails. Both boats have reliable outboards for auxiliary power.
We do also have our 1960's Alcort Sunfish sailboat, for which we bought a brand new sail mid-season last year. Also, our 15-foot traditional wood skiff is scheduled to get a whole new bottom this year, so her availability may be delayed.
We also want to let you know about a couple of changes regarding our operating procedures:
(1) as of mid-season last year, we are no longer charging a security deposit to your credit card to be refunded when the boat is returned. Rather, we collect your credit card information and your signature authorizing us to charge any amount up to $1,000 on your card, up to 30 days following the date signed, for payment of any fuel charges, clean-up fees, late fees, repair charges, replacement of lost equipment, or settlement of claims by third parties resulting from your use of the rental boat. If you are not comfortable with this arrangement, please bring a security deposit of $1,000 in cash.
(2) we are now collecting a full-day's rental fee as a deposit for any advance reservation — you can mail us a check, or we will e-mail you a link through which you can make your payment online. We have adopted the following cancellation policy: if you have to cancel within 10 days of your reservation, we will retain your full deposit unless we succeed in renting the boat to someone else on the day of your reservation. If you cancel more than 10 days in advance of your reservation, you will be refunded in full less any transaction processing costs (about 3%). If we have to cancel on you, for example if the weather is so bad that we will not let you take the boat out even though you really want to go, then you will be refunded in full.
You can make your advance reservation, and even pay your confirmation deposit, online through our website at http://www.westharborrecreation.com/reservations/
We expect to have most of our boats in the water by early June, and our season will run through late September, with a couple of boats probably staying in through Columbus Day.
We hope to see you again this summer! Have fun on the water!
Regards,
Tim, Wendy and Bennett
West Harbor Recreation, Inc.
Boat Rentals on Boothbay Harbor
located at Harborfields Cottages
24 McKown Point Road
207-370-0678
info@westharborrecreation.com
http:///www.westharborrecreation.com/
facebook.com/WestHarborRecreation
To subscribe to our mailing list, please visit http://thorpeallen.net/cgi-bin/dada/mail.cgi/list/westharbor/